Welcome to Ellorien, a setting being designed for D&D Next. The older, nWoD version of Ellorien can be found at http://ellorien.mistsofmemory.net/.  This project began on 7/12/2014.  It is currently a work-in-progress.
What Is This?
Edit
D&D Next is a fantasy roleplaying system created by Wizards of the Coast.  The basic rules can legally downloaded here for free.  Ellorien is a fantasy world created by Laurel Artemis Stuart in 2013. Originally, it was created for an online roleplaying room using a modified version of the nWoD system created by White Wolf Games.  With the publication of the D&D Next basic rules, Laurel began working on a new version of Ellorien which could possibly be published in 2015 under the OGL or Open Game License.  This wiki should be considered a work-in-progress.
Table of Contents
Edit
Latest activity
Edit
Photos and videos are a great way to add visuals to your wiki. Find videos about your topic by exploring Wikia's Video Library.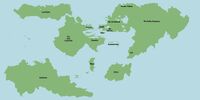 Community content is available under
CC-BY-SA
unless otherwise noted.